Ektron Synergy: Now a Spring Event
The Ektron Synergy Conference 2014 will be held from May 4th to May 6th in Boston. This will be the 7th Ektron Synergy conference, which has normally been held in the fall. Boston is in Ektron's backyard and an ideal conference location given its reputation for good times and great food.
It's been about a year and a half since the last Synergy and I am of course excited to see many of the friends I have made over the years at past Synergy conferences. They expect over 500 attendees this year. Ektron Synergy has almost a family feel to the conference as Ektron is always a great host with a loyal, long-term partner community.
I am excited to hear what is planned in the near future in terms of new features and capabilities. The Ektron CMS provides strong multi-language support for websites. It is a platform we see often in our website localization work. That is why we maintain certified developers on staff to support clients with Ektron-based website localization projects. Knowing what is planned next for the CMS will help us keep our clients informed and ready for the latest capabilities.
This year they are offering attendees 30-minute, one-on-one sessions with Ektron CEO, Bill Rogers. While this sounds like a chance to wrestle Bill, it is not. He is making himself available for more personal dialogue with clients. This is a really great idea. So often at conferences the CEO is available to meet clients for a friendly handshake, but not for such a committed timeframe during a busy conference.
Source: Ektron Blog
The conference sessions will follow three tracks:
– Innovation
Day one there is a session by Wolters Kluwer on Personalizing on a Global Scale? That s Innovative! This should be interesting.
– Marketer
Day one WSOL will lead the session DIY Tactics for Driving Business to your site with Ektron. As is normal for the Ektron Synergy conferences, it is all about driving business to your website after all.
–  Developer
Day two has Surprise! Surprise! What you can now do with Ektron 9.1.  Who doesn't like a surprise? I expect this to be a pretty popular session for developers and marketers alike.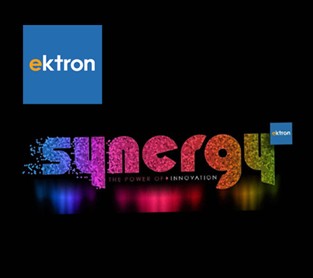 As is normal for the Ektron Synergy conferences, there will be a full team of Ektron staff on hand to provide expert advice on the product as well as many partners circulating about who can provide advice in their particular area of knowledge. This is primarily the reason I will be attending. Please feel free to reach out to me with any website localization questions that you may wish to discuss.
Globalization Partners International (GPI) is excited that we have been an Ektron partner since before Synergy began seven years ago. We often assist end clients and interactive agencies in their early planning phase to be sure that best practices are followed in the initial website development that will include multilingual requirements, so that when the site is ready to be localized the localization workflow should proceed smoothly. GPI has a team of certified Ektron developers on staff to assist clients in this manner and to maintain our Ektron connector that we provide to clients for free in support of their projects with GPI. Our Ektron connector allows clients to easily perform the export and import functions with a few clicks of a mouse to eliminate the alternative manual process.
This complements the overall service offering GPI provides our clients for website development, website localization and Global SEO services for our clients with digital needs.
I will post a report upon my return from the conference. If you are planning to attend Ektron Synergy, please contact me at pbetts@globalizationpartners.com. It would be great to meet you!
Globalization Partners International and Ektron
GPI has long been a partner with Ektron, and Ektron is one of the most popular CMS choices to drive scalable, multilingual websites that must be deployed on a global basis. With all the features included for on-site and on-page search engine optimization, Ektron is an ideal solution for multilingual websites.